诚信
As is demonstrated in the picture, there is an old man using his magnifying glass and looking at the sign which reads "The sale of famous brand shoes . The salesman is asking him what he is looking for, and the old man says that he is looking for honesty. The topic in the photo indicates that integrity is important in our life. Simple as the picture is, its far-reaching implications should be taken seriously.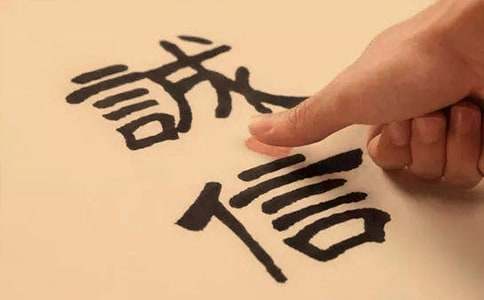 From my point of view, the cartoonist intends to remind the readers that honesty is of great value. At the top of the list, integrity does matter to personal growth. Without sincerity, barely can any individual be really successful or cheerful. In addition to what has been argued above, a man can not only profit from honesty materially, but he can also benefit much from it spiritually. In effect, it is integrity that enables people to live a much richer mental and material life. Whats more, honesty is like a lighthouse to a man in want of help, which can guide him to a bright and promising road. As a result, there is no exaggeration to say that integrity is an element critical to problem solving and life success.
In view of the above-mentioned analysis, we may safely draw a conclusion: It is golden time that we took initiatives. For one thing, we are supposed to make use of this picture to enlighten the young. For another, it is advisable for us to cultivate the awareness of being an honest man. Although, ahead is a long road, filled with hardship and uncertainty, I am firmly confident that our shared efforts will be paid off eventually.
词汇:
magnifying glass 放大镜,放大器
famous brand 名牌,名牌货
far-reaching 深远的`,广泛的,深至远处的
At the top of the list 名列前茅
personal growth 个人成长
problem solving 问题解决
【诚信】相关文章:
论"诚信"05-02
诚信与维权10-15
商务诚信论文:塑造商务诚信的路径选择05-16
关于诚信的论文:政务诚信的缺失与重建05-16
诚信演讲稿:我们走在诚信的大路上10-21
诚信考试主题班会07-20
主题班会:诚信至上08-23
关于诚信的诗歌01-14
诚信为本08-03